A romp in two acts (so far) through the extraordinary events before and after Britain's June 2016 referendum........ this one will run and run!
STOP PRESS - Brexit the Musical has added FOUR MORE SHOWS at Waterloo East Theatre from Thursday February 2nd, after its sell-out run at the Canal Cafe Theatre

(January 11th to 18th) and Waterloo East (January 20th to 29th)

.
Performances will be on February 2nd, 3rd and 4th at 7.30pm and on Sunday February 5th at 4.00pm. Tickets at £15/(£13 concessions) are on sale at
www.waterlooeast.co.uk
and on 020 7928 0060
There was a special performance on February 1st, by invitation only, in the House of Commons Press Gallery (see News).
Brexit the Musical will also play from February 7th to 11th at the

OSO Arts Centre

, Barnes, London SW13 0LF at 8.00pm. Tickets at £14 (£12 concessions) are on sale here and at 020 8876 9885. An ADDITIONAL Saturday matinee on February 11th at 4.00pm is on sale here
Pirate video taken at the Canal Cafe Theatre on January 11th. The Three Brexit Ministers, David Davis, Boris Johnson and Liam Fox reassure the nation that they have all things under control: "Well, sort of - nearly - on the whole."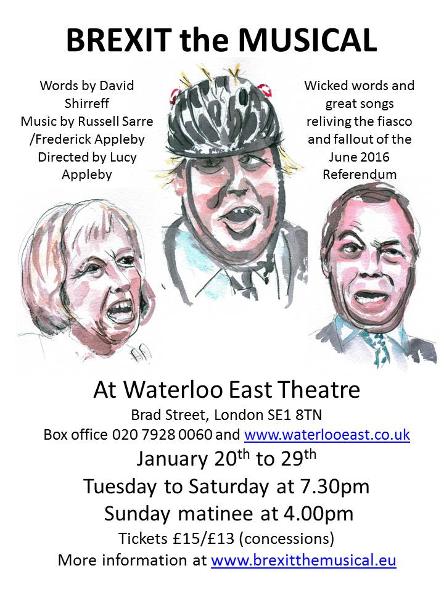 THE antics of our political leaders, following the shock result of the June 23rd Referendum, are the stuff of farce.
Brexit the Musical follows the misfortunes of Cameron, Boris, Farage, May and others as they flounder through the new world that they and their friends have created.
"Brexit means Brexit", but what the hell does that mean? Only this drama will get you near to an answer.
James Sanderson, Steve Emery, RJ Seeley, Chris Vincent and Neil Jennings, Airlie Scott, Elliot Bagden, playing multiple roles bring you this brand new musical. Directed by Lucy Appleby, with Frederick Appleby (no relation) at the piano.
*The Crunch Productions Actors Fund is aimed at ensuring that actors in our low-budget musicals get properly rewarded for their hard work. More details here